China Black Color Acrylic PC Resin Dining Chair Phoenix Wedding Chair for Event Rental
Black Outdoor Wedding Hotel Party Stacking furniture Plastic Acrylic Resin Phoenix Infinity Chair

Chairs and Tables for Wedding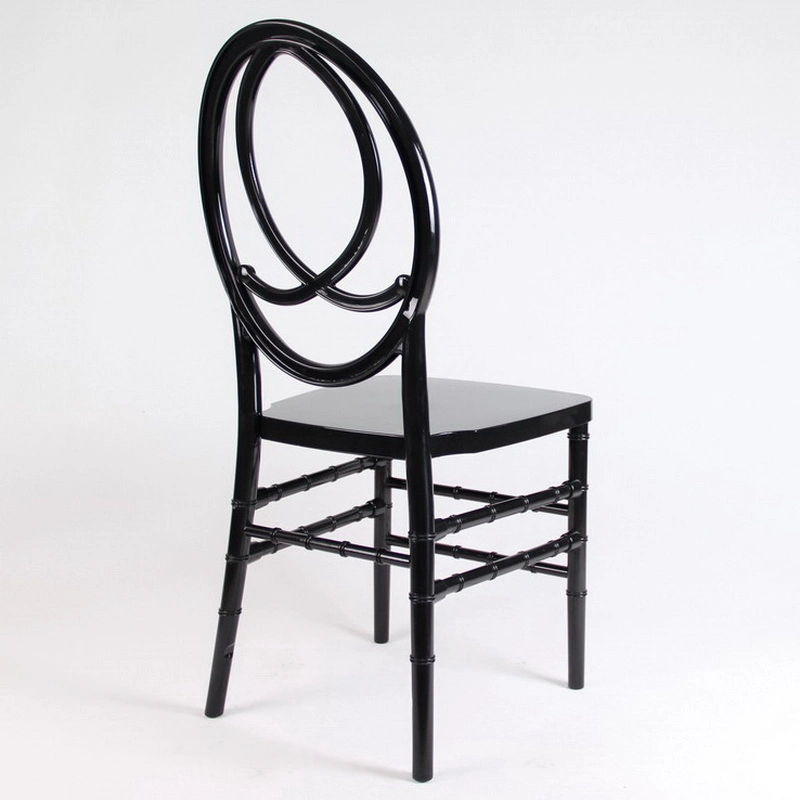 Restaurant Furniture Black Color Acrylic Plastic Resin Wedding Banquet Rental Infinite Phoenix Chair
Quick Detail:
Acrylic Polycarbonate(PC)
Resin Infiniti Perspex Phoenix Chair
Static load 350kgs
UV protect, fireproof, waterproof
Recyclable material boost green and low-carbon economy.
Professionally made with a strong structure to last years longer.
Chair is made of polycarbonate (highest quality resin).
Description:

The transparent/clear Infiniti Perspex Phoenix Chair is one of the best-selling products in resin chairs,with 75 % of the total production in our resin Infiniti Perspex Phoenix Chairs.

This colour appropriate to any occasion in rental industry of Infiniti Phoenix Chair.


Phoenix chairs have always cached the eye of its admirers. It would be hard to say just for the admirers, it has proved itself over the period of time, and make it name that cannot be challenged.

Resin Phoenix chairs are very well designed and made in a very fine way for your comfort and stylish looks; you can have these resin Perspex chairs in your fine events and make the things look pretty amazing, these chairs are very helping and assist the event in a very well mannered way. Resin Phoenix chairs are easy to handle and are developed by the long and hard process to make it look beautiful and long lasting for your need.

Resin Phoenix chairs are all exciting and cater the event In a well pro-founded way, you can have these chairs with you by just dropping us a query and we will get to you as soon as possible. These resin modern lucite chairs are a new era in the field of chairs and those who are going to have them will really be acknowledged and remembered.


Applications:

The clear resin phoenix chair is widely used in wedding,party,banquet,hotel,restaurant,ballroom,church,ceremony and other special events.
.........................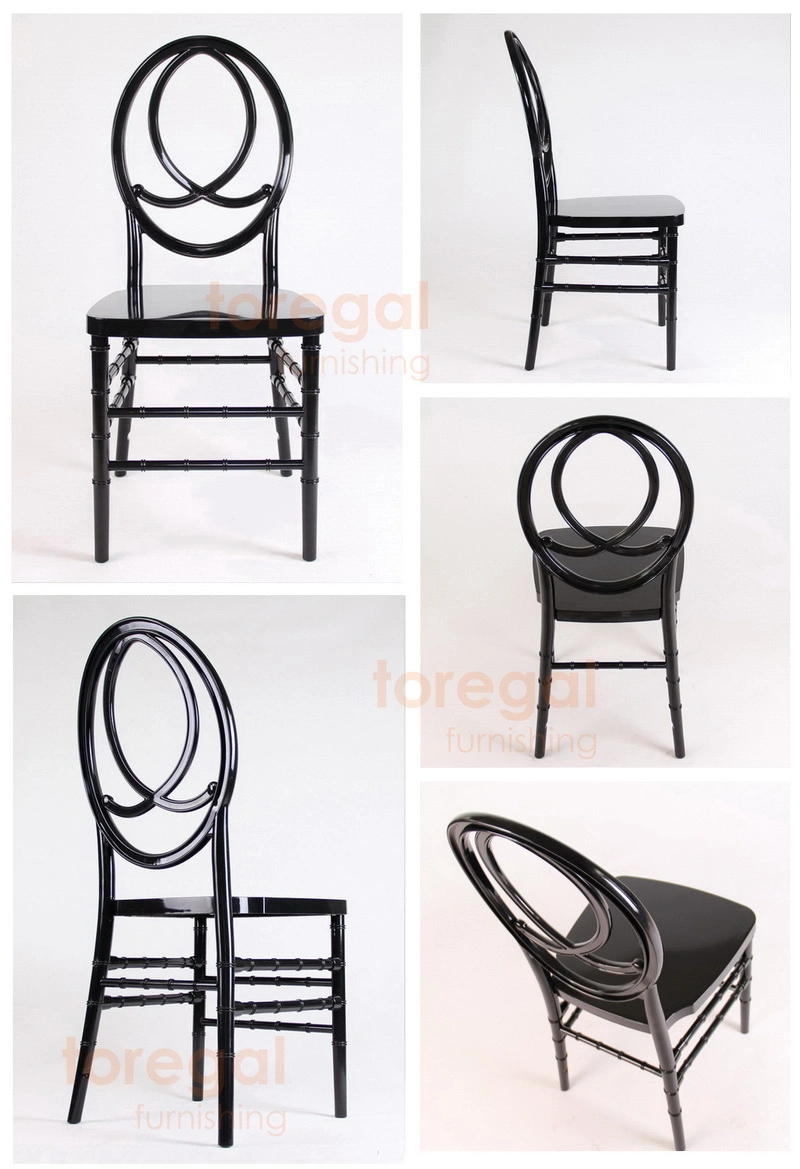 Hotel Furniture Black Color Acrylic Resin Wedding Banquet Rental Infinite Phoenix Chair
Stackable & Disassembled Acrylic PC Resin Phoenix Dining Chairs

Model No.
HDR-PX-A Series
Chair Height
94.50 cm
Seat Height
44 cm
Chair Depth
47 cm
Seat Width
40 cm
Chair Width
40 cm
Seat Depth
40.50 cm
*Net Weight-4.95kg *Gross Weight-5.00kg *Material Brand: TEIJIN(JP) or SAMSUNG(KR)



Container Loading Quantity



Knock-down
(Disassembled)
4 pcs/carton
Carton Size: 94*40*30cm
20FT: 980 pcs
40FT: 2000 pcs
40HC: 2200 pcs
Knock-down
(Disassembled)
With Cushion
4 pcs/carton
Carton Size: 94*40*36cm
20FT: 820 pcs
40FT: 1600 pcs
40HC: 1900 pcs
Assembled
(with and without cushion
both ok)
8 pcs/carton
Carton Size: 233*38*58cm
20FT: 392 pcs
40FT: 832 pcs
9 pcs/carton
Carton Size: 263*38*58cm

40HC: 936 pcs

*Net Weight-4.95kg *Gross Weight-5.00kg
*Material Brand: TEIJIN(JP) or Samsung(KR)
*100% fully Recyclable/Exported/Primary polycarbonate(PC) material, (The PC is commonly known as Bullet-proof plastic, It have the highest physical properties, Toughness, Hardness, Elasticity...It's the best material to make resin chair. )
*More stronger and durable than wood, PP/ABS/Acrylic chair or other resin chair with steel inner frame.
*Advantage: Strong resisting impact, erosion-proof and static electricity.
*Injection molded polycarbonate frame is highly impact resistant.
*UV resistant to prevent fading & discoloration. 100% Waterproof.
*Looks like traditional timber chiavari but without the maintenance.
*Loading capacity: Over 350kgs static load.
*No sanding, repainting or staining needed. So no odor of paint, more environment-friendly.
*Perfect for the indoor and outdoor events.
*Stacks or KD chairs provide for better warehouse management, freight savings and more efficient delivery.
*All resin constructed with reinforced aluminum screws in joints.
*Wood or PP chair needs paint, will be scratched easily. Our colour chair, solid color, no paint.
*3 years limited warranty on frame under normal using!
........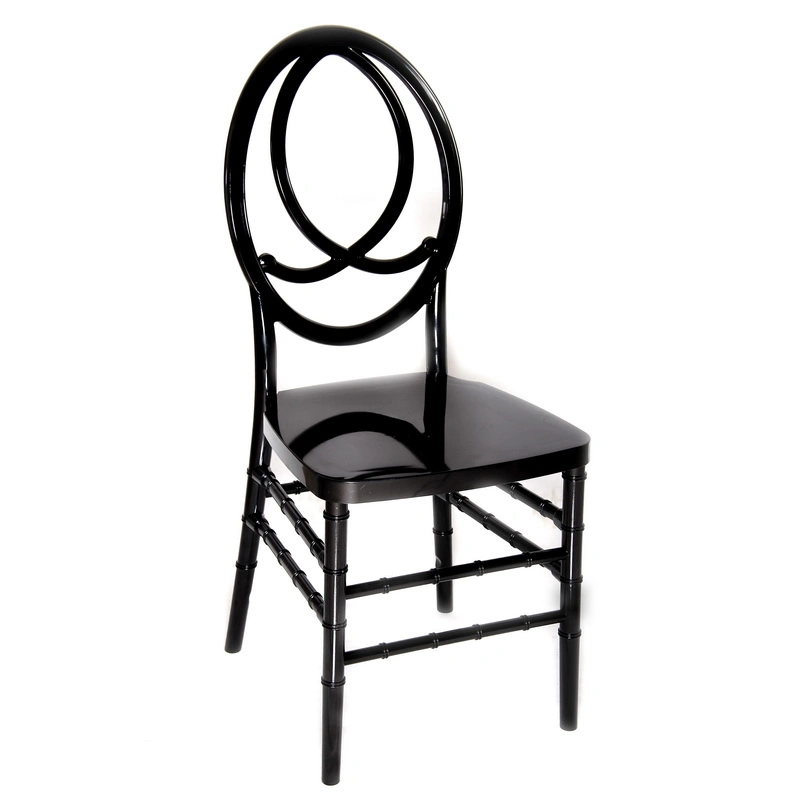 Hotel Furniture Black Color Acrylic Resin Wedding Banquet Rental Infinite Phoenix Dining Chair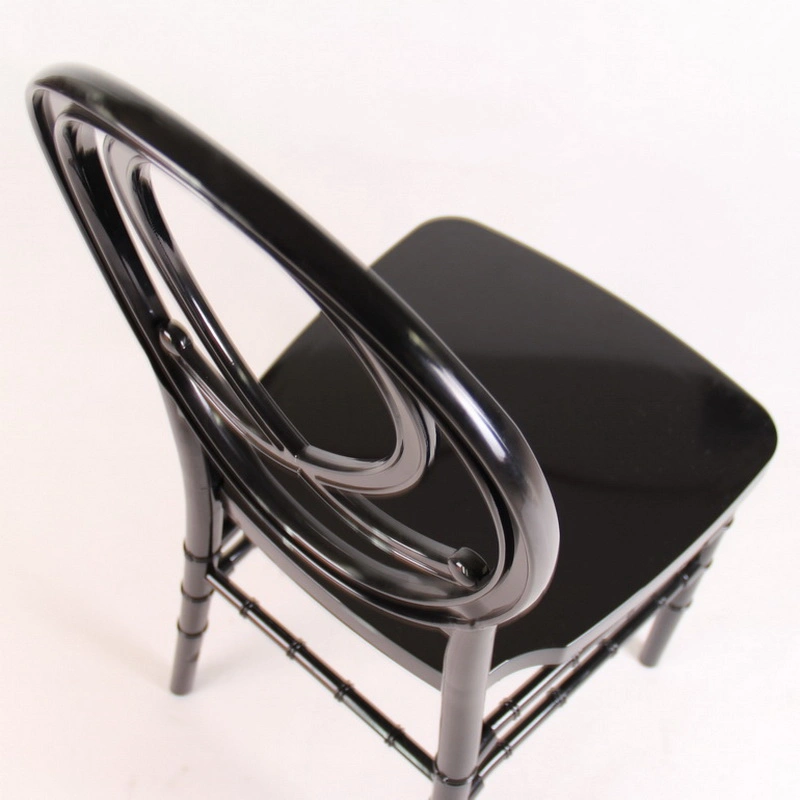 Black Color Fashion Wedding Furntiure Acrylic PC Resin Phoenix Chair Chiavari Chair Sillas Tiffany
Wedding Decoration / Banquet Decoration / Party Decoration / Events Decoration / Hotel Decoration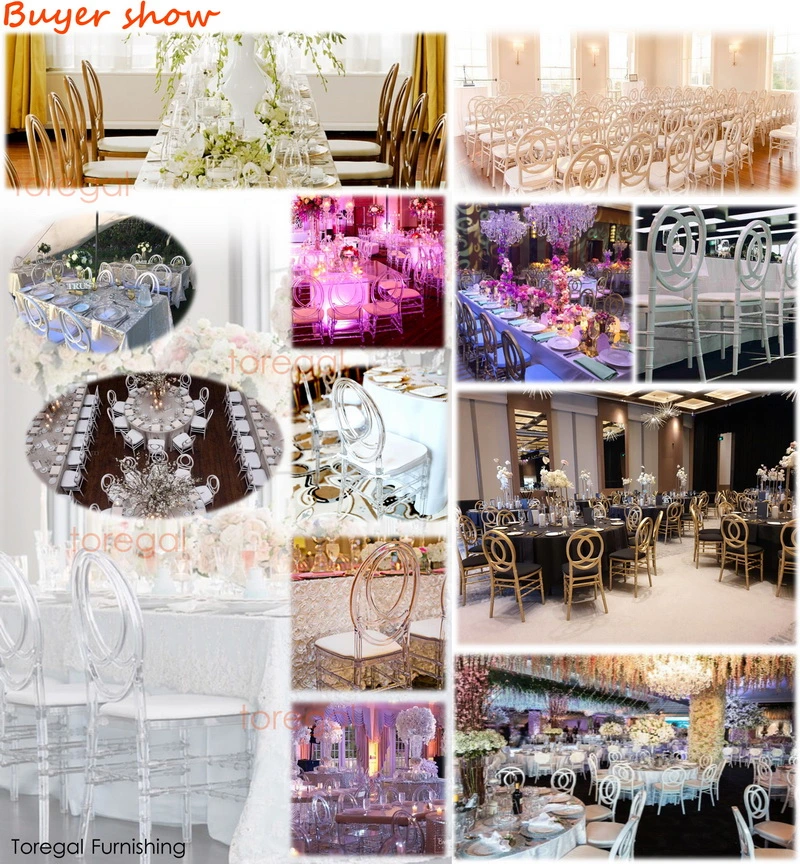 Black White Color Wedding Chairs and Tables Supplier / Banquet Party Chair Tables Supplier
PACKING & SHIPPING
>>>>>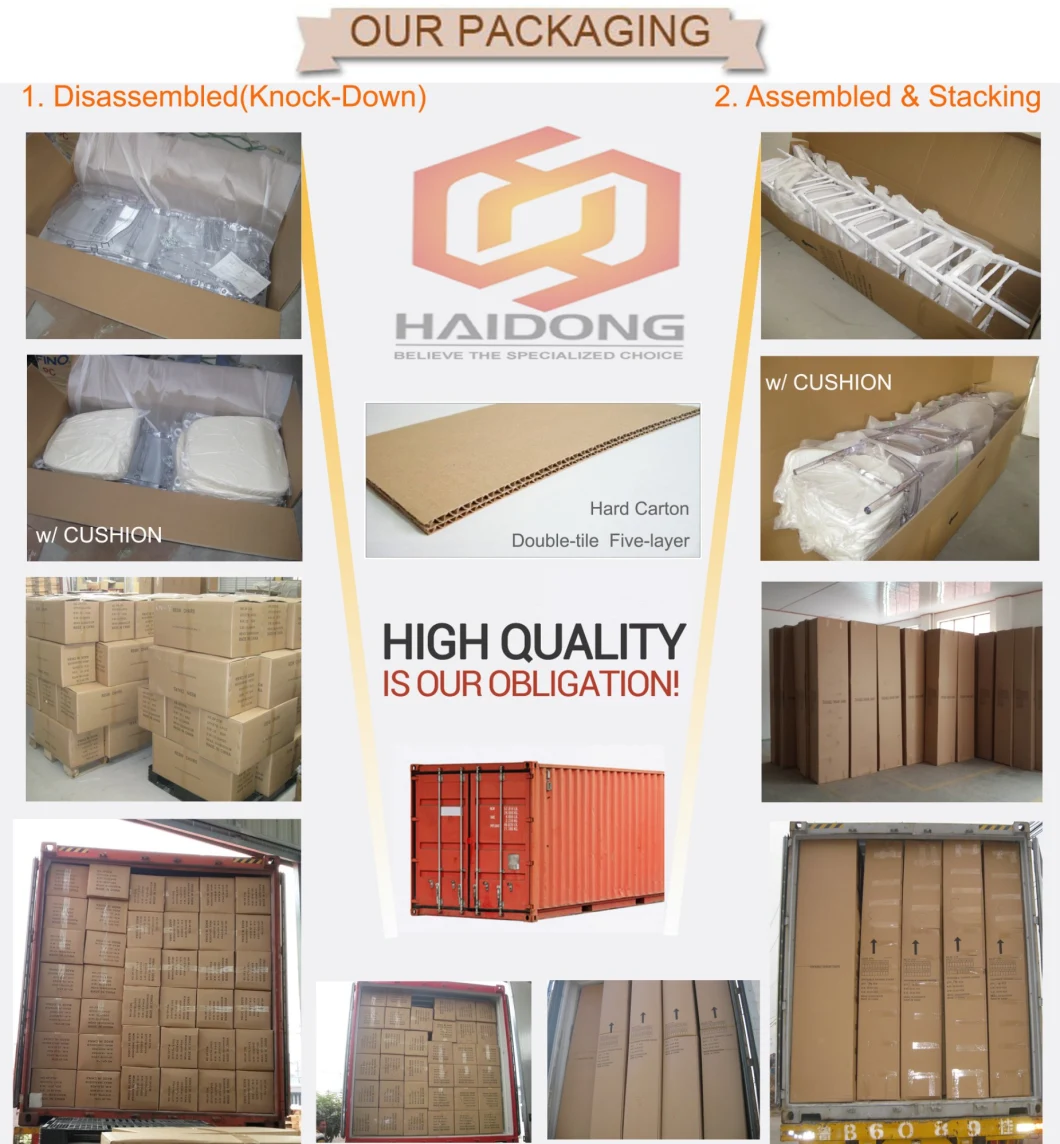 Acrylic PC Resin Chaise Wedding Phoenix Sillas Chiavari Marriage Dining Chairs






ABOUT QINGDAO TOREGAL >>>>>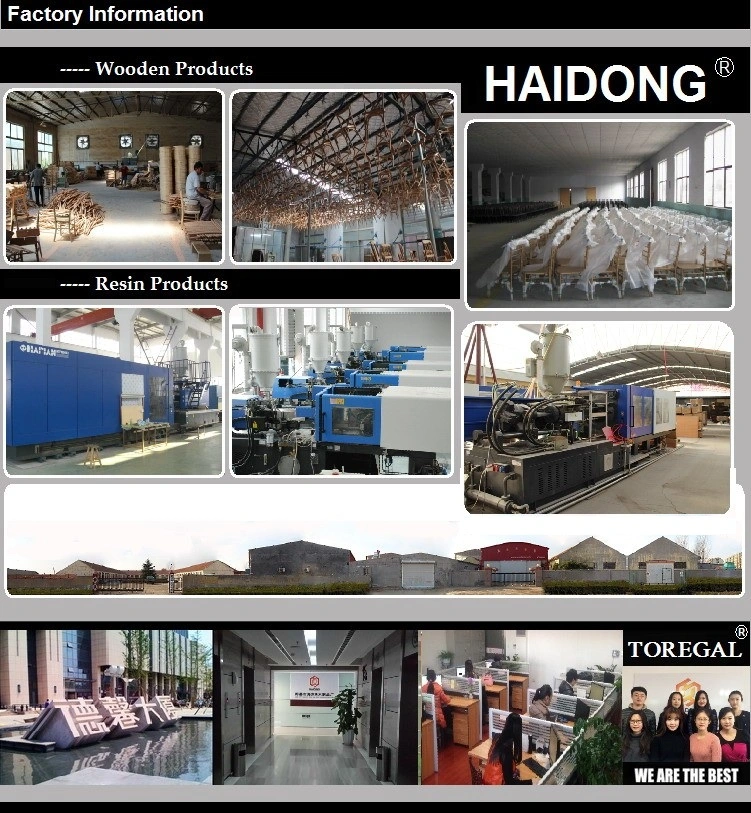 QINGDAO TOREGAL FURNISHING CO.,LTD

JIMO CITY HAIDONG IRON AND WOOD PRODUCTS FACTORY
Our factory lies in the suburb of beautiful Qingdao(Tsingdao), and the specific location is Pudong town, Jimo city. Now, our factory takes up an area of about 27000 square meters, and building area is 20000 square meters. Meanwhile, the fixed asset is 20 million CNY, and the staff number is over 100. Our factory is only 25 km to Qingdao Liuting International Airport, and 80 km to Qingdao port.

We possess the advanced equipment and have established the advanced management concept, and have successfully passed the certification of international quality management system ISO9001/2008.Our operating management and production process were strictly controlled, which contributed to the production of reliable products and standardization of service. As a result, qualified products were supplied in an extremely fast speed.

Our company advocates "Art, Classical, Fashionable,Environmental protection" design concept, the current products in wood and resin chairs,leisure chairs, cross back chairs,folding chair and tables accessories six big series is given priority to,and maintains more than 100 kinds of different design,specification,color of products for customers to choose.These products has been exported to over 70 countries and regions including USA,UK,EU,France,Russia,Americas,Brazil,Africa,HongKong,Nigeria,Middle East,etc. Now, our product has passed relevant furniture standard tests of EU,USA and other countries,the reliable quality guarantee from the general customers the high praise at home and abroad.


Specilized-manufacture,Quality above everything else - are our idea of the company's production! We will consider product quality as our life, consider customer's benefit as our task, and give customers all-round service. Sincerely welcome the consultation and business negotiation from guests all over the world. In addition, we also thank you for all your care and support.


Wood Chiavari Chair
Pass EN 12520:2010 Furniture-Strength,Durability And Safety Test;
Resin Chiavari Chair
Pass ANSI/BIFMA X5.1-2002 General-Purpose Office Chairs-Tests American National Standard for Office Furniture;
Resin Napoleon Chair
Pass EN 12520:2010 Furniture-Strength,Durability And Safety Test;
Plywood Folding Table
Pass EN 12521:2009 Furniture-Strength,Durability And Safety Test.
Wood Napoleon Chair
Pass EN581-1:2006 Outdoor Furniture-Seating for camping,domestic and contract use Part-1:General Safety Requirements



Welcome more customers to try our quality tables and chairs.


Main Products:
wood or resin chiavari chair,chivari chair,cross back chair,ballroom chair,banquet chair,wedding chair,hotel chair,restaurant chair,ghost chair,phoenix chair,royal chair,sillas tiffany,farmhouse table,metal toregal chair,tiffany chair,party chair,event chair,banqueting chair,folding table,folding chair,silla tiffany,banquet table,cushion,chateau chair,president chair,castle chair,napoleon chair,versalle chair,camelot chair,silla versalles,silla avantgarde.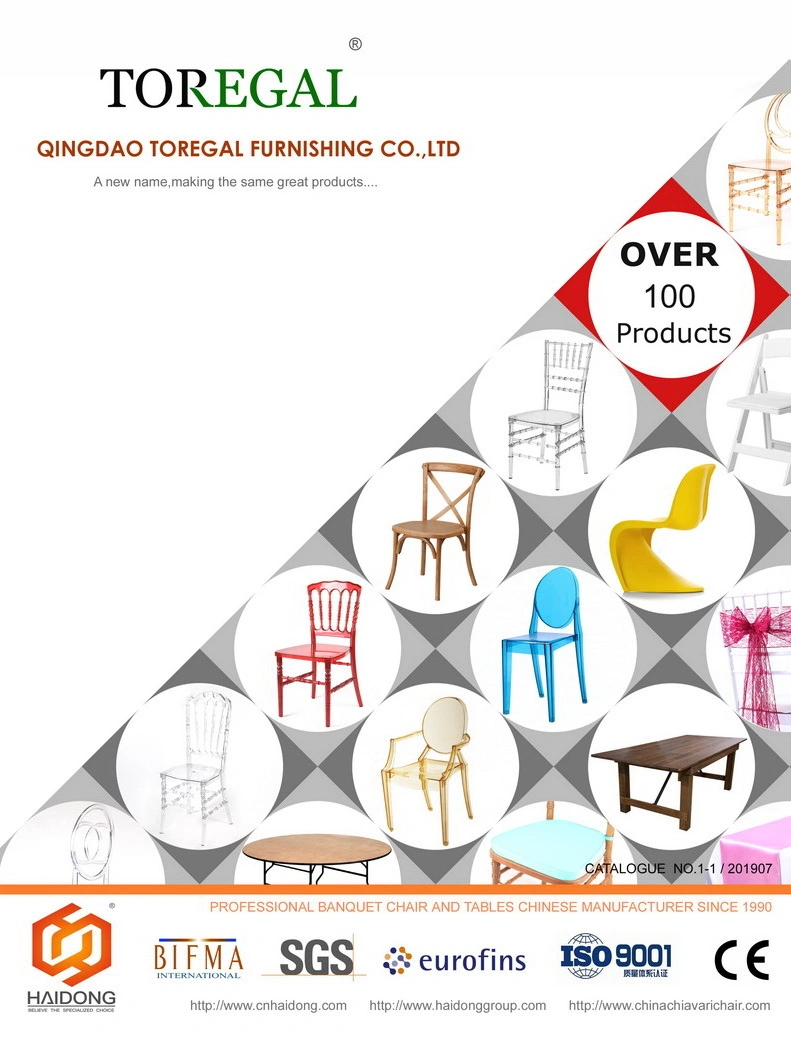 Wedding Tables Decoration / Banquet Tables Decoration / Party Tables Decoration / Events Tables Decoration / Hotel Tables Decoration

Qingdao Toregal Furnishing Co.,Ltd

Made in China
F A Q
1. Q:Is the resin chair a knock down chair or a full unit chair?
A:Knock down resin chair

2. Q: What is the difference between the knock down and a full unit acrylic chair?
Is there a price difference?
A: The price of an assembled chair is 0.5 dollars more than the unassembled acrylic chair.

3. Q: What is the maximum weight that could be handled by the plastic chair?
A: Static load 350kgs

4. Q: What is the material used for the production of the resin chair?
A: Material: polycarbonate

5. Q: Are the acrylic chairs UV resistant? Does this prevent fading and discolouration?
A: The chair is UV resistant, preventing fading and discolouration.

6. Q: Can I get a sample acrylic wedding chair? What is the cost and procedure of this?
A: Yes. But the sample is charged, we will express the sample to you once receive the payment.

7. Q: Do you have the resin chairs come with a warranty?
A: 3 years limited warranty on frame under normal using

8. Q: What is your loading port?
A:Our loading port is Qingdao, China.

9. Q:Would it be possible for me to have someone meet with you and visit your office and factory?
A: Yes. Welcome to visit our office and factory at your convenience.