A2800 Factory Plate Metal Ceramics Crystal ABS Plexi Glass UV Flatbed Printer

With a pedigree of over twenty years' experience of having built inkjet machines, over 15000 installations worldwide and over 80% market share in China in the industrial grade UV segment, JHF technology Co. Ltd manufactures these systems in a state of the art 56,000 sqm factory located in Beijing using industrial grade components sourced from Germany, Netherlands, Japan ..... .
These machines are designed to work 24 x 7 consistently delivering high quality with high productivity.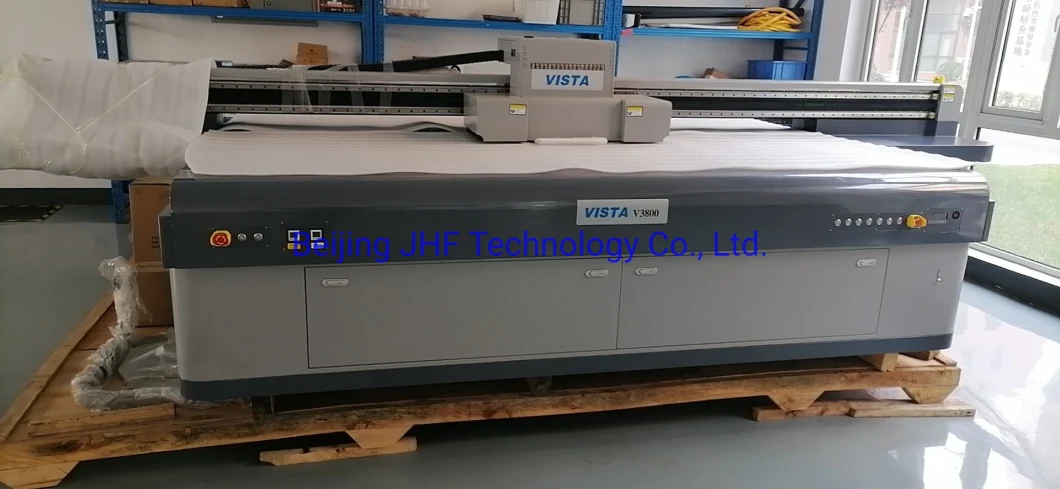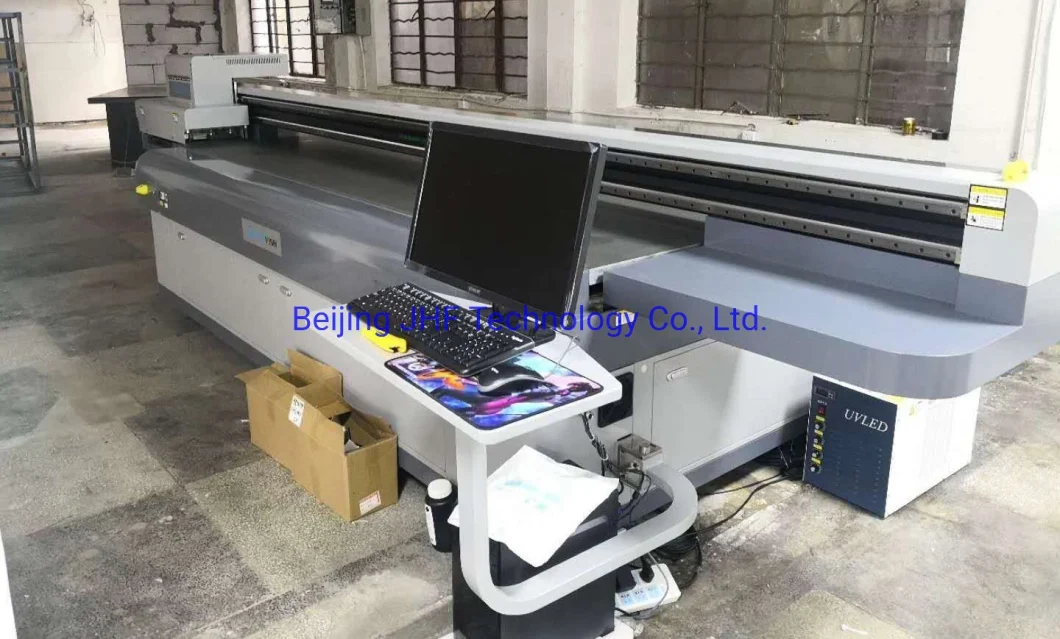 Multi-combination industrial sprinkler

Sprinkler combination, CMYK/CMYK+W+V/CMYKLCLM+W+V, support double rehearsal, 4 rehearsal, color white and other customized schemes.

Excellent color managemen
makes the output color of the image more beaut
Germany's top color Gate10, excellent color management, so that the image output color is more brilliant and accurate, and ink costs reduced by 30%. It also supports common RIP software such as Photo print.
The control of color separation and ink pressing can further reduce unnecessary ink waste.
1.5L automatic ink supply bucket, ink added immediately, to avoid ink precipitation, with ink mixing system, always ensure the stability of ink supply.
The white color independent negative pressure system makes the negative pressure control more precise and ensures the stability of printing at all times.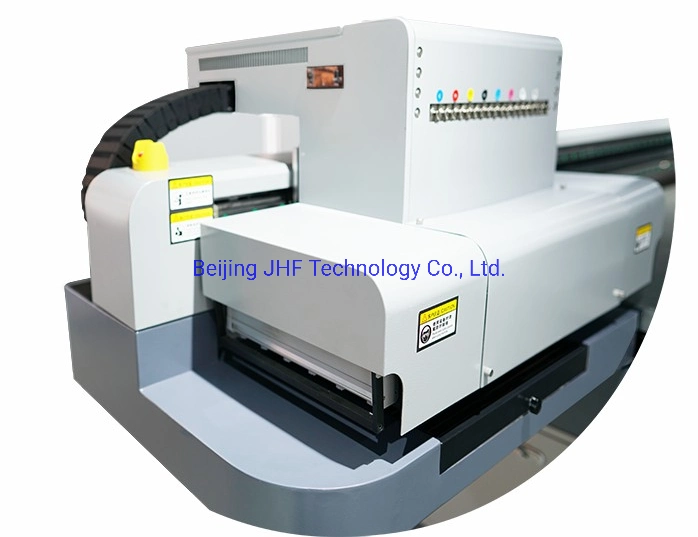 Richo G5/G6 nozzle


Richo G6 sprinkler, all steel structure, corrosion resistance, long life.
7pl-35pl variable ink drop printing, excellent ink drop control technology, can achieve photo-level output quality.
High precision stepper motor, micron height adjustment of vehicle head and high sensitive altimeter probe are used to ensure the overall image output quality.
Magnetic grating is not easy to wear and deform, oil-resistant, easy to maintain, high stability, greatly improving the accuracy of positioning.



High stability and high

X-axis adopts THK high-speed silent guide, Y-axis adopts WON high-speed silent guide, with high accuracy, low noise, wear resistance, high stability and long service life.
WON high precision grinding screw, with 7004AC angular contact high-speed bearing, screw rotation is more smooth.
The use of Panasonic motor system, double Y motor and double zero setting ensures the high accuracy and stability of the equipment movement, unique motor start-stop control technology, so that the equipment movement is more stable.
The suction platform adopts 61 independent adjustment units to further ensure the accuracy of the suction platform.
A2800 Plate Metal/Ceramics/Crystal, ABS/Plexi Glass/Acrylic, PVC/PE, PP/Film, Factory Price UV Flatbed printer
Reference Specification (some data can be adusted according to your request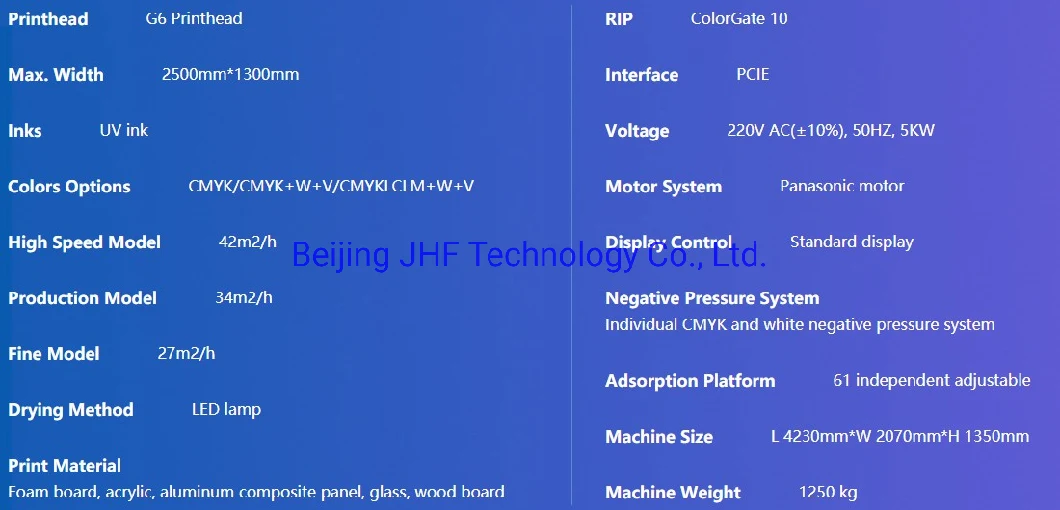 covers wide application fields, including AD printing, sheet metal processing, architectural ceramics, decorative flooring, packaging paperboard and others. And it realizes the instant delivery of industrial production from customized design to terminal products.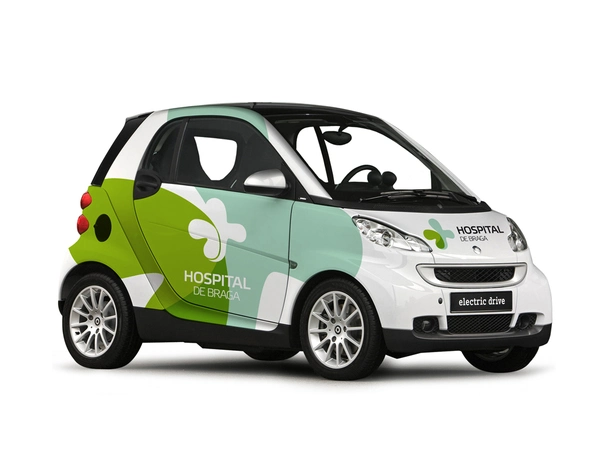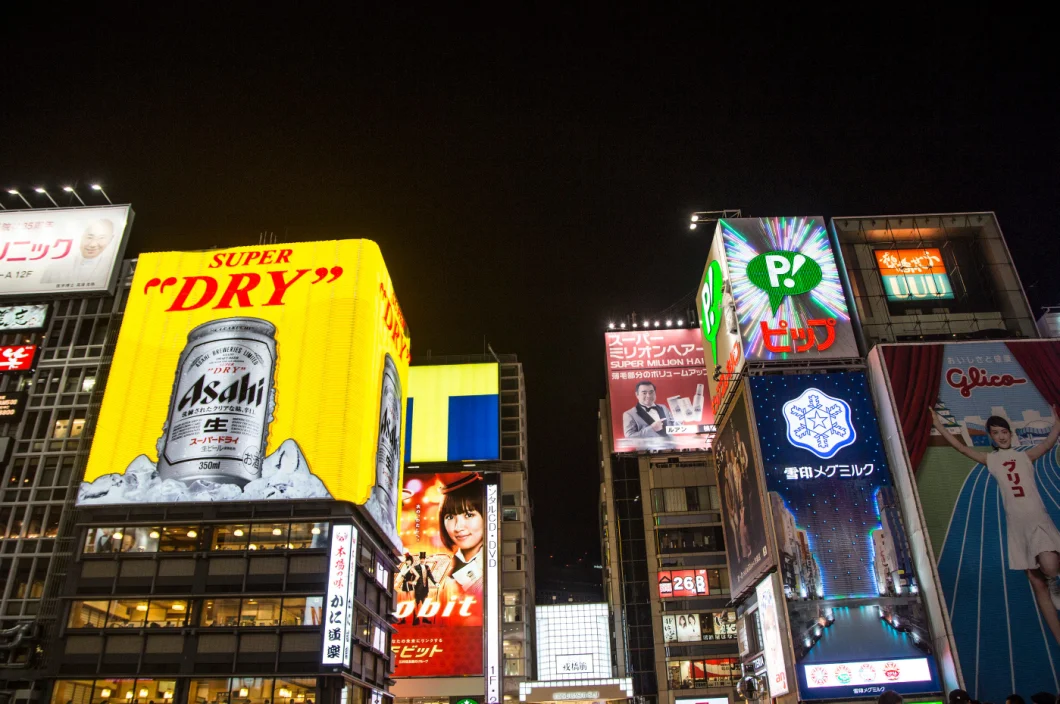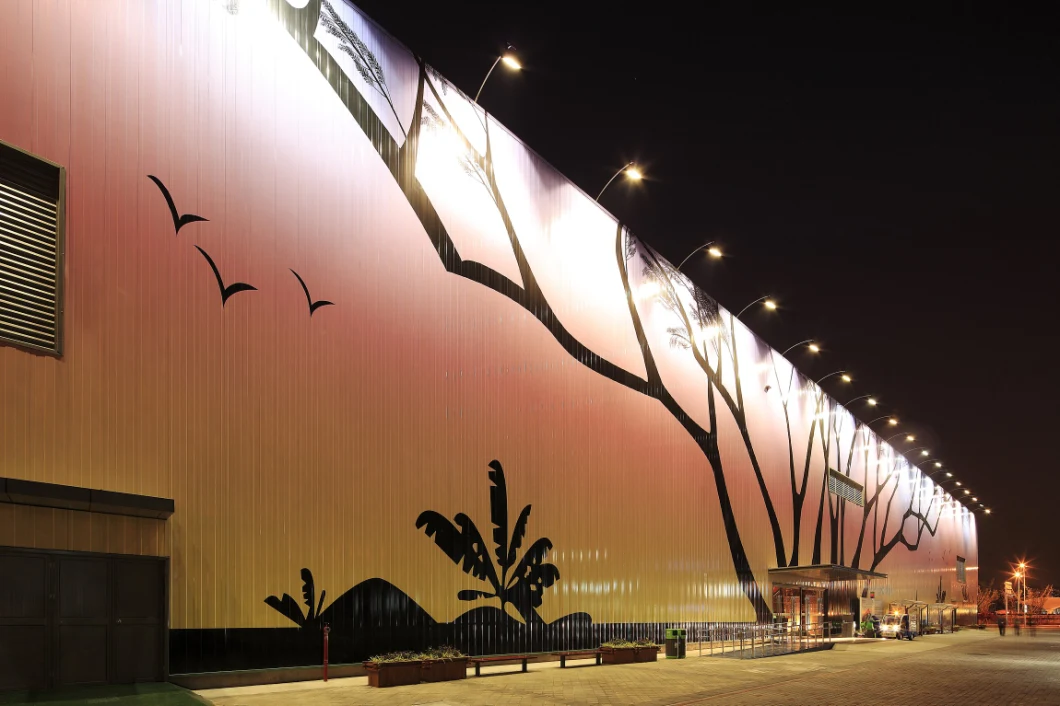 JHF Technology Group Co., Ltd. (JHF)
is manufacturer of grand-format industrial printer, focusing on UV and textile direct printing. JHF' plant located in Beijing and Jinan, China, over 10,000 sqm working floor. 15,000 printers were already installed in world wide scope during last 20 years. It's our pleasure to work with clients from all horizons. Always ready for supplying best machine for graphics printing.

JHF supply full series of printers, covering different applications and inquiries. No matter start migrating from solvent to UV or want to upgrade from entry level to high-end, there surely is suitable machines meet your demand.